Play Double Sente Early/ Discussion
Charles I suppose the main class of exception here is aji keshi. If playing the sente corrects some aji in your opponent's position, it becomes a harder decision. Perhaps the converse can be put more strongly: if your sente is not clearly aji keshi, there will be little reason not to play it.
Bill: I find it hard to visualize this exception, Charles. The opponent's sente will typically eliminate the aji in his position, as well, no? Not that there are not examples, but it would be nice to see one. :-)
Charles I get the impression that this type of position is a possible example.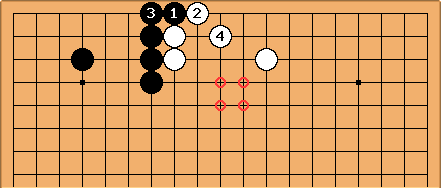 Here

/

is likely double sente. On the other hand White's group ends up quite thick, while Black has given up chances in the centre round the circled points. If I saw a kyu-level player as Black play

without considering whether the middle game was still happening, I might comment later.

Bill: That's a good one. Thanks, Charles. :-)
How about the diagram below, altered to make

more urgent, and also to make White's hane-tsugi more threatening?