OP Counting
Introduction by Patrick Traill inferred from page content
This page illustrates OP Counting, apparently part of the "OP Rules", where "OP" in both cases appears to stand for "Own Point", used in the sense that one only counts interior points of the area controlled by a player, i.e. points not in contact with live enemy stones.
PJT (2019-08-19) This page would be more useful if we were also told by whom this system is proposed and where (if anywhere) it is used. The link in Rules of Go to the Korean language "OP Rules" at https://masteroftherules.blogspot.com/2017/03/op-rules.html suggests that is is of Korean origin.
noname: The initials OP stand for "One Pure". that's my name means.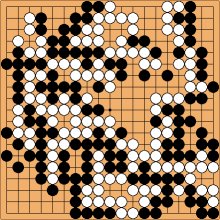 The position is taken from the page Ing Counting



(111 − 103) − komi
Own points of each color.