Muko
Muko (無劫 or 無コウ, mukō, lit. "non-threat") is the Japanese go term for a false ko threat.
In French, ko threat translates to menace de ko. And muko to menace de con :-)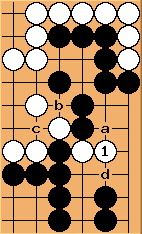 In this diagram,

is muko.
If White plays at a after Black fills the ko, then Black can play b, White c, and then Black d.[1]

---
[1] Robert Pauli:
Black's d can wait. He should instead close the gap above b, forming a two-point eye. Otherwise White walks in (twice) and Black loses six points. That in mind, White should not start at a but immediately walk in, costing Black four points compared to starting at a.