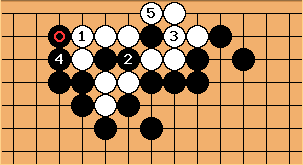 Bill: How about

instead of

above? White sacrifices the tail.

saves the

stone and prevents a White escape.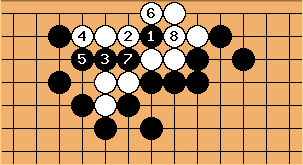 Bill: If Black is strong outside, so that escape does no good, White can live this way.


---
togo: I moved the following from the solution page:
White is unconditoinally alive (according to kgs 2d). Sorry I'm not good at making diagrams for sensei's.
As I see it there are 4 serious black moves to consider:
A black descent on the right lets white live after white plays the diagonal move down to the first line on top creating a T shape-like interior which is alive
togo: Then White would only live by ko.
A black placement on white's life making diagonal point on the first line lets white live after white plays on top of it.
togo: Then Black would extend to the right, White's group would be dead.
A black placement at the point above the 2 white stones lets white live after white plays on the point left of it. Note that in this variation white may be forced to give up the stones in the middle in order to make 2 eyes along the edge.
Any other black move lets white live by playing on the inside two eye making point though white may have to give up the 3 stones .
-Milo234