Kyu Exercise 31 / Solution
Status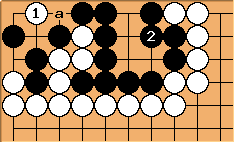 For White,

is best.

forms a bent four and lives, and White can play at a to capture the stones at the corner.

and

is probably the strongest attempt to kill. The main thing to see in this problem is the tesuji at

, which makes

and

miai for life.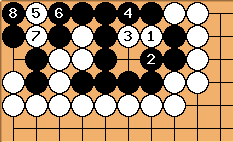 is wrong. White makes a placement at

, followed by an atari at

on the entire Black group which forces

to capture, finally a throw-in at

which makes the eye at the corner a false eye.
---