Hikaru No Wakajishi Sen
I'm looking for a game seen on HikaruNoGo (the anime, but games & story are close to the manga). This game is the one played by Hikaru on the WakajishiSen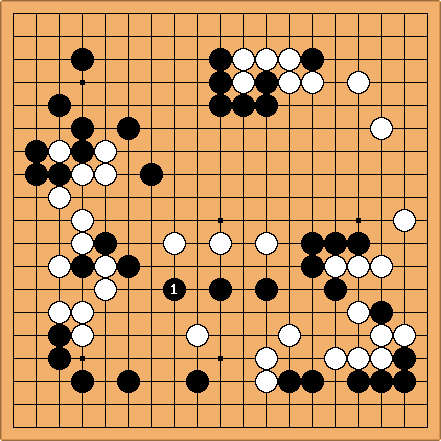 Black just put the stone on 1, and it is said to be a great move (because he fooled his opponent well and turned a previous bad move into a good one).
While I'm a very high kyu, I would really like to see to whole game if it's a "well known game" (like others from Hikaru No Go/Games), because I don't really understand the "bad move" (D8)
---
I am not strong, but here is my feeling on the game. The stones played are marked above. At the time Hikaru played the first move, I believe it was meant as an invasion into White's framework. Instead of passively playing underneath, White played properly with a capping move. The problem is that after the three moves have been played by both sides, White's stones are now cut off and are in more trouble than the black stones underneath. While you can see from the end result that the stones did not die, they were chased out of the middle while black was gaining ground.
I hope this helps explain. I will leave further comment to someone stronger than me.
Chris Hayashida
etern: well, black goes for the center where the 3 white stones are cut of from the other board.