Heavy play example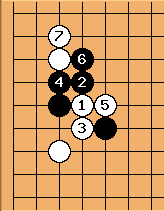 Charles Matthews This is a very heavy sequence, (though that doesn't change the conclusion on the source page. So, how about Black 4 at 7? Black 6 at 7 actually looks normal.
Bill: I'm confused. How is this an example of light play?
---
dnerra: Whoops, I definitely agree about 6. But why don't you like White 7? Where should White play instead?
As for Black 4 -- playing this at 7 never had occurred to me, but yes, this does look much better. So let me try your suggestions (I'd appreciate your comments):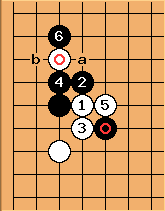 Depending on the situation, White a or b or a tenuki seem possible. In any case, the marked white stone has much more aji than the black one, and Black should feel uncomfortable in this situation.
Black 1 and 3 here could be the right way to make shape. Next White a (after which Black will try form a base with b) or White b (then Black gets a squeeze with Black a) look possible, also White c or White d. If any of those is not to White's liking she could also start with White 2 at d (planning to give up the marked stone in sente) or e (denying Black a base).
The battle is difficult, but White has many options and should be able to find a variation that fits well into the surroundings. It is still an uphill battle for Black.
---
Charles I fairly much agree with these new diagrams. These techniques anyway look like typical ideas for light play. As for White 7: more difficult to say without some idea about other stones on this side. If we assume White is very strong in the top left corner, and therefore White cut Black in order to attack strongly, probably White 7 as shown above is correct.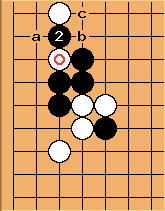 After Black 2, White still has useful plays at a, b and c to extract something from the sacrifice.
I think it depends on how good an attack White can have. Also this situation can lead to a ko, so who knows?