Group Scoring
Introduction
Group scoring is deciding the outcome of a game based on the number of living groups each person has. It requires a completely different kind of thinking from what's mostly encouraged. If method of play under this scoring were to be applied under other rules[2] it might lead to catastrophic results[1]...
---
History
Ehm... In the making..?
Present
Although still not being used in any official event a lot of players such as The Captain seem to be using it in an independent fashion. And their popularity on certain servers is spreading it among the masses.
Future
It's in your hands!
---
Examples

This example shows a basic count - each side has 1 living group therefore it's a jigo.
---
It's great what minuses does it have?
[1]None what-so-ever!
---
Bildstein: But look, take away a few plays by Black, and it's jigo...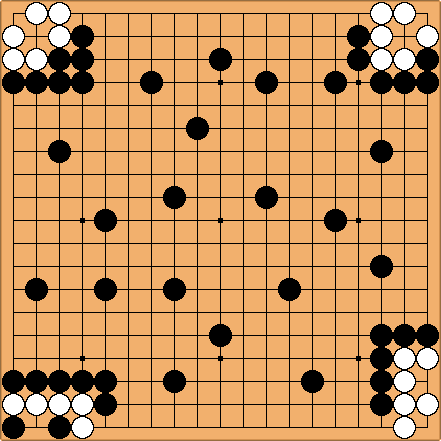 Robert Pauli: Disagree, wouldn't call this one white group.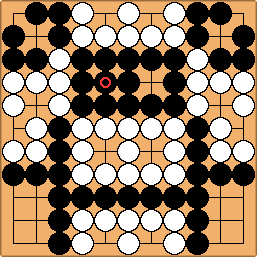 (Sebastian:) Is suicide allowed by these rules? (Hint: Play On The Point Of Assymmetry.)
Robert Pauli: Disagree, it's already one white group.
I marked what I assume Sebastian ment... Indeed a good point by performing suicide B takes away 3 points from W (4-1 become 1-0). However it's only the scoring method defined by the rule set and whether or not suicide is allowed should be also decided by the rule set in use... At least in theory! I wonder if allowing suicide makes any sense here... I think it requires further discussion... :) Reuven
---
kevinwm: Black thinks he's won the game......