GokyoShumyoSection5Problem27/Solution
unkx80: Instead of havig trouble saying "oiotoshi" and substituting with "oio-thing", you could say "connect and die". ;)

xela: Generally I'm in favour of using English terms where possible, but this one is difficult. "Black to play and live by connect and die" just feels wrong to me!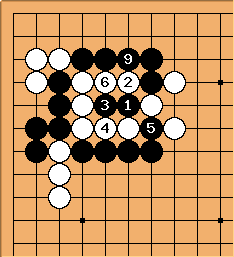 xela:

at

,

at

, and there you have your oiotoshi. It's another variation of the crane's nest.