Gokyo Shumyo, Section 1, Problem 95 / Solution
First of all, I decided to radically change my treatment of this series. The book by Hashimoto Utaro will be used as a reference guide, no longer as the determining source for solutions. In particular, the main line will from now on be the one that we deshis came up with as giving the most resistance by both players. This way I will do more honour to the efforts done here while better avoiding the copyright issues that may arise. Dieter
Main line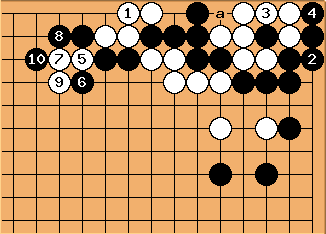 threatens

and White a but

and

keep the one-eyed-string short of liberties.

cuts to break up the stalemate. Up to

Black tries to keep White's liberties minimal. But then ...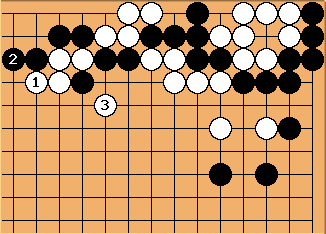 ... White forces herself out of the shortage and captures the cutting stones in a net with

. The alternatives for

are discussed at net example 8.
---
Variations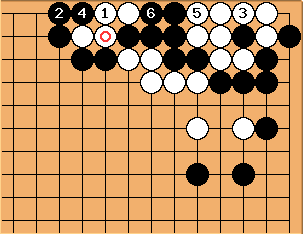 The clue of this problem is that

sets up an under the stones tesuji. After

captures four stones, white returns at the spot of the marked stone, and captures black.
---
Authors