Gokyo Shumyo, Section 1, Problem 48 / Solution

makes miai of a and b. The circled point provides the other eye.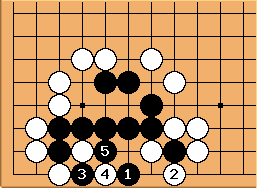 Thanks to the position of

and the throw-in at

, there is shortage of liberties.
This is yet another application of the oki wants ikken tobi shape.
---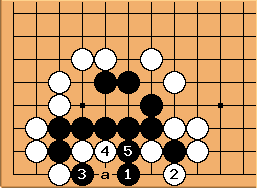 If White stretches at

,

captures two stones in a snapback.
---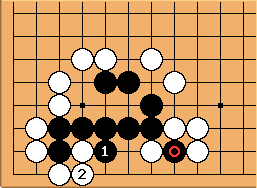 Many players would play the atari. Now White no longer fears shortage of liberties, and Black is dead. This is terribly vulgar. It does not use

at all.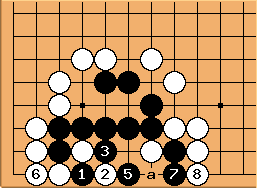 (

at

)
Other will see the throw-in at

, and then follow this diagram.

seems to work, but White simply descends at

and Black can't connect at a - shortage of liberties !
---
Go to Problem 49
Back to the series