Gokyo Shumyo, Section 1, Problem 30 / Solution
---
---
Zook: To the previous poster. Please sign your contributions in a L&D discussion. You can use a nickname.

leaves a and b as miai. If

at c,

at d.
lightvector: I don't see how Zook's answer works. Now if white finishes the process of squeezing black's space to 1 eye, black will get another at a.
---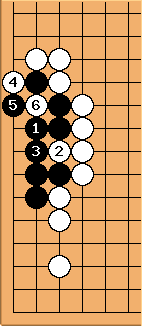 Becomes ko.
---
fringD: can't seem to beat it. i tried some other moves too.
Zook: have you tried White 3 at a ?
unkx80: Black dies.
fringD: yes i see it now... if i play elsewhere, white takes the vital point... turning a and b into miai
---
Problem 31
Back to KanazawaTesujiSeries