KGS New Zealand Rules: 'free teire if even dame'
KGS Chinese Rules: 'free teire if even dame', forbid suicide
KGS AGA Rules: fixed handicap, 'free teire if even dame', forbid suicide
KGS Japanese Rules: fixed handicap, life-death rules, basic-ko, forbid suicide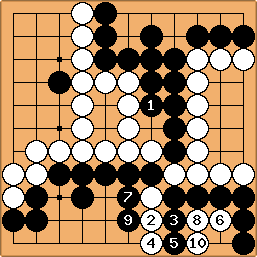 $$
Flower Rules
Flower's eclectic Rules for playing WeiQi ;-)
Version 0.1 (2007-01)
Flower Rules are a specific implementation of the Taylor/Tromp rules. (by adding some of this optional bulk that distinguishes full rulesets from core rules)
Special traits of this ruleset follow from the paradigms it evolved from:
Based on Tromp/Taylor Rules thus inheriting its flawless logic and simplicity.
Benefits of both Area and Territory scoring by heeding Ikeda Toshio's advice.
Fixed handicap system that gives players appropriate handicap.
Fair self-scaling Komi that both players determine together prior to starting a game.
I came up with them as I was the first in my peer group to pick up playing Go. As such I started evangelizing using Taylor/Tromp rules as they were the least confusing of all rulesets. Though <30k I am still the most experienced player in our round and began studying the rulesets as my friends got curious about specific rules. Soon I was cought in a crossfire of questions specific rule situations which led to the evolution of this ruleset.
Q: "Are you and your Friends nuts!? Talking about specific variants pertaining to miniscule komi amounts in order to make for a 'fairer game' when you all still make errors worth over 10moku each other move?"
A: "We are german ;-) (and academics to boot)"
Flower Rules: (note to self: translate TT rules into german)
Definitions:

Handicap := Stones that are placed by the weaker player before the beginning of the game.
Komi := Stones that are given to white as prisoners prior to the beginning of the game in exchange for the right to make the first move as black.
Setup

Equivalence Scoring shall be used (area scoring through 'passtones', 'white passes last' and 'territory Counting')
The Handicap shall be equal to the rounded down rankdifference.
During Handicap placement the stronger player does not give passtones. Thus the handicap stones will not score during counting.
Komi as well as sides can be set by Divide and Choose? or Auction Komi. If the rankdifference is fractional then the weaker players gets to play Black for free.
If the first pass of a game is made by White then no passtone shall be given for this pass. (Ikeda's Rule)
End of the Game

Two successive passes during play trigger Aggreement.
Two passes during Agreement initiate 'last pass has to be made by white', 'agreed stone removal'. After the removal of the stones the game is scored by counting.
A move during the agreement phase will resume play. (Another two successive passes are necessary to enter another agreement phase.)
_Trashcan: Other than that I have created the following subpages:
_from KGS Experience: Positive:
Friendly Atmosphere, yay!
Teaching System, whee!
Speech :) (though speex does so much better with 9-12kbps)
Ability to chat in-game
Chatrooms
Friendly SGF Editor (variations view and so on)
Crossplatform due to Java
Automatic updates with JNLP
The Wiki I am just contributing to :-)
Help Room, where some nice admins helped me at once after 1st connect.