BeginnerExercise145/Attempts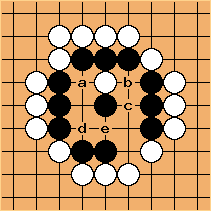 If Black plays a, then b and c are miai, as are d and e. So we mostly have to look at these five for White's initial move.
---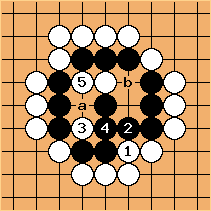 This particular sequence leads to one wall falling and allowing white to break through due the double atari at a & b. I'm not sure if there's a better way of reacting to white's moves, as trying to move directly against the inside white lets her secure a number of key points and through the gate, so to speak.
---
I'm just a beginner, but does this set work?