Antinoun/TigersMouthSnapback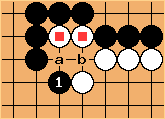 I have seen a lot of problems lately (especially in Graded Go Problems for Beginners, 20-15kyu), where this pattern comes up.
The play at 1 should be considered an atari on marked stones, just as if played at a.
This is because, after this setup, a play at b will kill those marked stones ... they could capture the stone at b, but then be captured via snapback by another play at b.
Black's play at 1 may be more useful than playing at a, and is a good pattern to know. If nothing else, important not to fall into it's trap! (tiger trap? heh).