4-5 point 3-3 approach
White comes in at the 3-3 point in search of a quick way to live.
Black normally answers at a, giving White a choice of direction, or at b to build a wall on the upper side. If Black really has to defend the left side, he may play the otherwise inferior c.

Black's diagonal play
White slides one way or the other with

, and

is expected. For

Black can make an extension to the vicinity of the circled point on the upper side, or play at the other circled point for influence on the left side.

Black's knight's move
In this line a ladder is possible (set up by

at p), but a running fight is more common these days, with Black 11 at c. This may support Dieter's thoughts on ladder strategy.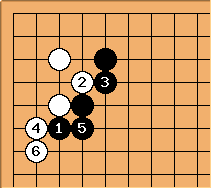 White can also avoid fighting, by playing

as the staircase. This is White's plan of preference when Black has a stone already in place on the left side.
See discussion at 4-5 10-3 enclosure, and comments below.
Naive kyu question: what if W4 at B5 when the ladder is bad for black?

here can lead to a pushing battle. In this case White has an option of playing at e first, before pushing on at d.

Playing for the left side
If Black really needs to defend the left side, this sequence is possible, but this no longer seems to be part of pro play.
When to play the 3-3 approach
The 3-3 approach is a good approach globaly speaking when White has a stone along the side such as

in the following diagram (i.e. a 54113 enclosure).
---
The 3-4 approach
Even though the 3-4 approach is feasible, as shown in the following diagrams, Black ends up with a bulky group without any eyeshape which will be quite a burden to take care of. That is, play the 3-3 invasion to avoid becoming heavy.
(Joseki line reference at 4-5 point 4-3 approach keima, contact at 3-5, hanedashi. Charles)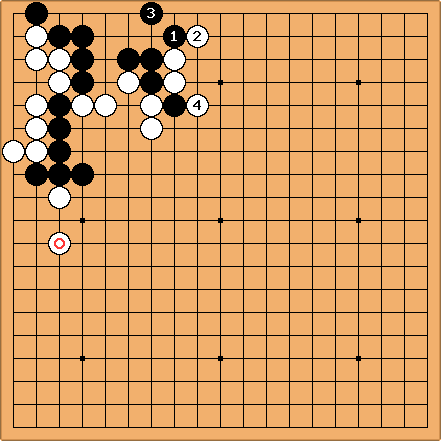 -- Floris Barthel?

Charles: I'd like to comment that this discussion provides two examples of blocked configurations. Firstly, as far as I can see, Black simply never plays now into the 4-3 approach (last example dates from 1772). And consequently the framework with

isn't seen in pro games (last example I've seen is from 1961). Effectively the pros say '

is a hamete, and the 3-3 approach a refutation'.
Floris: Yes, the

stone isn't in a very good position, and when Black does then invade at 3-3 as shown, you can see the stone is in a very inefficient position.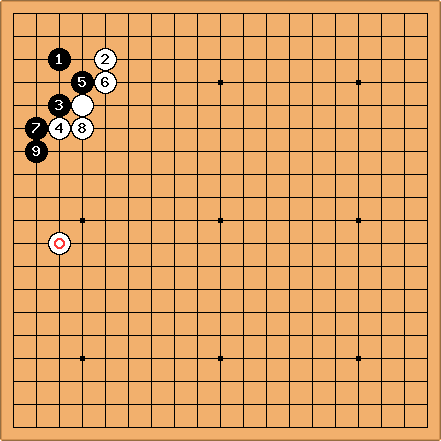 Bill: Yeah, like White is really going to play

here.
Dieter: I guess that, if the pros regard

as a trick play, this sequence is one of the diagrams proving the refutation. Not the refutation, maybe, but not entirely irrelevant either, I suppose.