4-4 point, low approach, tenuki
This gives an overview of 4-4 point low approach tenuki joseki that have a page (or several pages) on Sensei's Library. Usually the result of the tenuki is a double approach.
For each joseki, here or at the linked page a standard sequence is given (this is one of the more common ones, but need not be the absolutely most common one), and an overview of pages dealing with that joseki and its variations.
---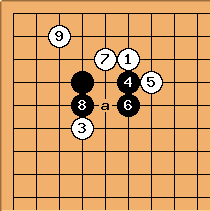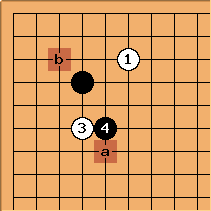 tderz: White now usually either hanes at 'a' or enters directly at 'b'.
(LINK to must-existing diagrams)
dnerra: Without any pincers, I think that is usually wrong and definitely not joseki. I have seen it in a pro game, but there it was played by white only since the surrouding conditions helped quite a bit to put this more into White's favour. Even so it was criticized by the majority of pros watching the game.