4-4 point low approach statistics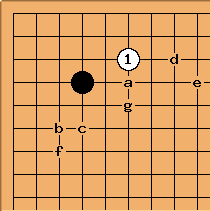 This

is the low approach.[1] It is absolutely dominant among approach moves to the 4-4 stone. Based on the games recorded in the GoGoD CD, it appears in actual play about 50 times more frequently than the high approach move at a, for example.
The most frequent replies to this approach move in professional play have been (in their order of frequency in GoGoD CD):
Also:
Dave Well, yes and no. I am afraid I was rather careless in the original search above. The situation is significantly influenced by whether or not Black has extended along the left side. These are the actual counts for the top ten continuations by Black from 1990 to 2002 as shown in the July 2002 version of GoGoD where there is no stone near the left side star point. Notice that the attachment is only the tenth most common line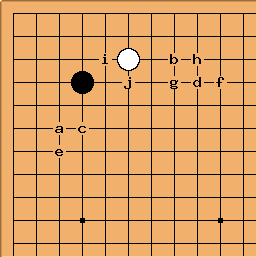 Statistics:
4505 matches (1071/3434), B: 49.7%, W: 50.2%

Ba: 1945 (1936), B51.0% - W49.0%
Bb: 919 (902), B50.7% - W49.3%
Bc: 653 (630), B47.9% - W51.8%
Bd: 551 (521), B46.8% - W53.2%
Be: 98 (97), B49.0% - W51.0%
Bf: 85 (78), B42.4% - W57.6%
Bg: 75 (69), B57.3% - W41.3%
Bh: 35 (27), B54.3% - W45.7%
Bi: 23 (23), B43.5% - W56.5%
Bj: 20 (19), B40.0% - W60.0%

Black may also play tenuki here. That allows White to play a second approach on the other side, called a double kakari. A double kakari of that kind is more severe on Black than in the many variations where Black plays a pincer here and White replies with a double kakari. -- Charles Matthews
Dave Charles is right of course. In the search above there are another 339 cases where White plays next, making tenuki the fifth most common continuation by Black.
---
Question about diagonal attachment response moved to 4-4 point diagonal attachment joseki.
---