3-4 point high approach outside contact, tsukehiki solid connection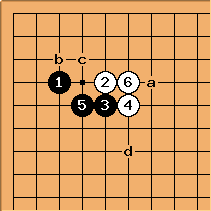 Recently, the solid connection at

is coming up as an alternative for the hanging connection at a. The idea is, that after White's attachment at b, Black's defense at c is impossible. Thus, White is more or less guaranteed the option of playing either at b or d.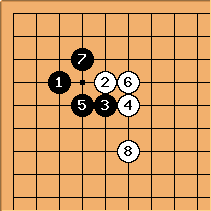 Because the corner is quite large,

is a common move. White concludes a simple joseki with

, but she can also play tenuki. As of Jan 2003, up to

is very fashionable in pro games.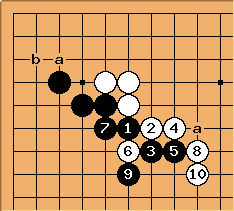 Black could also play the hane at

. This diagram shows one possible continuation. Instead of

, White a-

-White tenuki is also possible.
As stated, the advantage for White over the hanging connection is that after White a, Black will have no choice but to answer at b.
-- AndreEngels