3-4 point high approach low extension, trick play
After

,

is a normal response.

however is not normal, this move is normally played at a.

is the only move, after which black plays

. With

and

, black is trying to trick white.
The normal continuation for white is to play a. White b is a mistake which will result in a bad position (See variations under 'White atari').
White descends, black descends
After white extends with

, black normally plays

. Alternatively, black can try to brew up trouble by playing c (See variations under 'White descends, black hane up')
The correct way to play for white is to give atari at a (see 3-4 point high approach low extension), but many players will be tempted to cut at b. This is a mistake.
After this sequence, may players will feel satisfied that they have captured the marked stone

. In reality, they have been tricked.
One way for black to continue is to play like this. White gets only 4 or 5 points in the corner, while her marked stones (

) are cut off. Black is strong on both sides, so this result is terrible for white.
Black can also continue with

. This sets up another trick because the corner is not 100% alive yet. If, for example, white considers the corner alive and plays

through

. Black can kill the corner.
After



, white cannot play at a due to shortage of liberties
Considering the above, white should play 1 to defend the corner. Now the p-q-r threat is gone, because the white capture at s then creates 2 liberties (r, t) instead of damezumari.
The classification of above as "trick" or "obvious threat" is in the eye of the beholder.
White descends, black hane up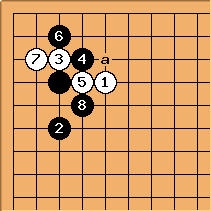 After

, the players are in for a complicated fight. White can avoid that fight by playing a, but playing a comprises a small loss for white.
Herman Hiddema: I will expand on this at a later time. For now, see the discussion at BQM186
White atari
After black captures the stone at 3-3, white can only give atari with

. After black defends, white has two cutting points. White will defend the upper cutting point at

, after which black cuts with

. With

and

, white sacrifices another stone and sets up a ladder. If the ladder is bad for white, this is a disaster, but even if it is good, black is very happy. Black gets a big corner in sente and can look forward to play a ladder breaker later on.