3-4 point distant low approach, pincer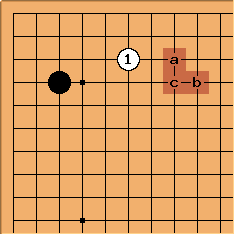 Although

is used to counter a black pincer, a pincer is still possible. The most usual pincer is played at a; see 3-4 point distant low approach, one-space low pincer. Other possible responses include the two-space high pincer (b) and the one-space high pincer (c)
---
[01]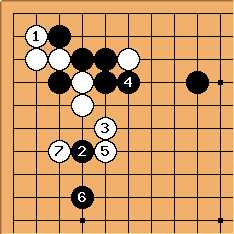 Because the pincer does not give enough support,

at

does not work well here. Instead, black plays at

, with the followup shown here.
---
[02]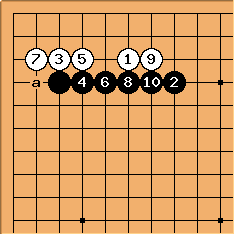 The near high pincer at

is a relatively modern move; as far as I know it was not played before the 1990s. Its intention is to build a position facing the left. If White attaches at the 3-3 point, the position reverts to a position from the 4-4 point low approach one-space high pincer.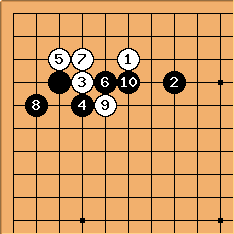 However, White is more likely to attach at the 4-4 point in this case. The moves to

are joseki;

is the most common continuation.