3-4, 5-3 enclosure, shoulder hit reduction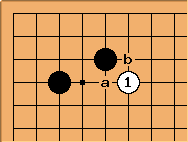 White's shoulder hit against the small low enclosure is normally responded to with the two basic responses to a shoulder hit, a or b. Since the enclosure has some strength, one also often sees a tenuki as answer.
---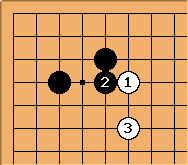 Most often, Black pushes up and White lightly jumps to

. This completes the reduction maneuver.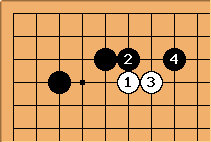 This is much rarer, as Black is rather submissively flattened out. It can also be seen as a transposition of the 3-4 point distant high approach, one-space low pincer, tenuki
---
See also: