Twirl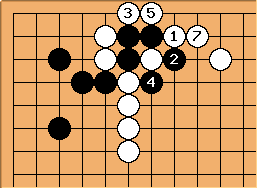 ,

,

are the twirl[1], a variation of the squeeze tesuji performed on the first line. Japanese: guru-guru mawashi (spin round and round).
Bill: I am not sure that this is guruguru mawashi.
If

connects, in this case White connects up with

, leaving Black with a floating clump. In other cases, White may be able to capture Black entirely.
---
tderz: We should be able to find a more spectacular example for guru-guru mawashi.
---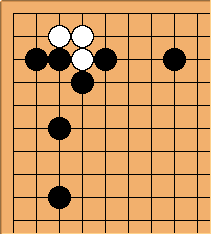 dnerra: Here is a variant of this tesuji that I recently missed in one my games.
Answer to appear on a separate page.
---
[1]
Name suggested by Bob Myers. (?) Other proposed names: "edge wrap", "first-line edge wrap", "edge wrap squeeze", "squeeze wrap", "connection squeeze" (Holigor); "shrink-wrap tesuji" (charkysan?).