Wang Runan
王汝南 (Wáng Rǔnán)

(b.1946, Jan 14) Chinese pro, 8 dan in 1986.
Author of Intermediate Level Power Builder.
Comments on ten pro games in this 10 disc set 20th Century Games

http://www.beauty128.com/product_detail.php?pid=VT013

http://gobase.org/information/players/?pp=Wang%20Runan

http://index.sports.sohu.com/person/plist-3770.html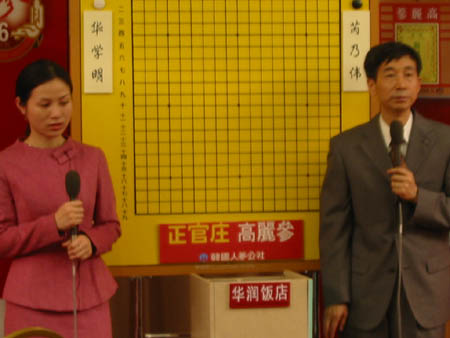 Wang Runan on the right
(on the left is 杨 莲 - Yáng Lián, Go reporter & presentatrice,
wife of professional player xx, n dan (I forgot which one, heard it on Yitan Chunqiu TV))
playing simultaneous games
Started Weiqi with 14 years, was awarded 8p in 1982.
Held successively the posts of Chinese Chinese chess association vice-president, Chinese 妫嬮櫌 vice-president, Chinese and Japanese Friendship Weiqi manager, etc. etc. Replaces Chen Zude on June 12, 2003 to take the post of

---
to be deleted later
tapir: Isn't this too much like a gallery? The text really isn't easily spotted. Velobici: Agree...a photo or two would be great, seems that there are more than enough photos here.