Molasses Ko
The Molasses Ko is a strange position, which behaves differently under different rules and might slow the game down to 20% of the normal pace by making it mandatory to exchange four moves after every regular move.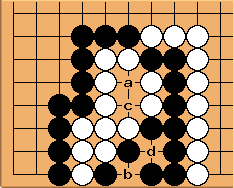 Assuming that there are no ko threats big enough, this situation will repeat as long as there are valid moves on the board.


After the moves a-b-c-d the original situation is reversed (next diagram):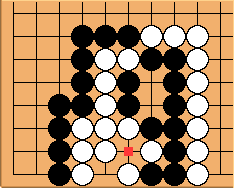 It's still Black's turn, and he uses it to make an ordinary move somewhere else. If that move was not a huge ko threat, White must reset the position (next diagram):
After 1 to 4 it's White's turn to move, and she will play elsewhere. (for example, White could answer the move Black made after a-b-c-d in the first diagram.)
Now the local situation is exactly the same as it was in the first diagram, and the cycle repeats.
---
Omitting the exchange
Both players must make this exchange after every move played elsewhere, or his/her stones are captured.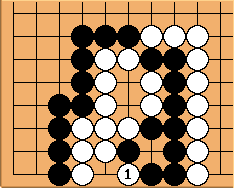 If Black omits the exchange, White can play 1. Now the situation is a real ko, and as was stated above, there are no ko threats big enough, so the black stones are lost.
---
Status?
Anonymous:
What is the status of the groups involved in a molasses ko? I really have no idea whatsoever :-) My first guess would be seki, since neither player can capture the other.
On the other hand, it could be a no-result, since after either of the players passes, the other will take this ko. This will of course depend on the wording of the ko rules used.
If superko rules are used, the game will be decided by "who has most valid moves" (since you always have to play elsewhere or lose). Number of valid moves can be counted by adding up every distinct eye, and then subtracting 2 for every separate group.
Bill: It's more complicated than that. See No Pass Go.
walleye: Also, should that be "if positional superko is used"? There will be no pass fight if situational superko is used, right?
Bill: The first version of the superko rule that was adopted for play was a positional superko rule, so that is the default meaning.
In this situation, the effect of komi is nullified, since the counting system reverts to stone scoring. :-)
Go figure :-)
~srn347: Looks to me more like a seki, assuming there is a superko rule (otherwise, infinite loop). This is, of course, assuming there are no threats bigger than the size of the group.
RobertJasiek: The status question has been mostly answered: A molasses ko can be black death, white death, seki or - under rules yet to be found - a fighting ko: See the paper

ko types for a proof. So, ~srn347, knowledge has advanced far beyond personal belief like "looks like a seki".
---
Origin
The first known molasses ko was played in game between British player T. Mark Hall and a chinese player called Zhao Zhengren in a friendly game in a London Go club. GoGoD has an article on it. There is some dispute about who first named it 'molasses ko' - so called because Molasses are very sticky and this situation slows the game down.