Handicap
If two players differ in strength (see rank), the weaker player gets handicap stones to compensate for the difference. That way, both players have a chance to win. In general, the ideal handicap is equal to the difference in kyu or dan ranks.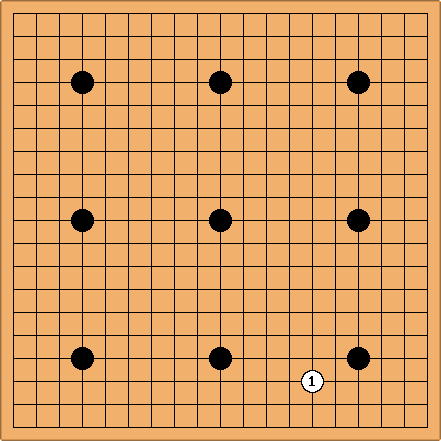 Traditionally, handicap stones are placed on the star points, but one can also play with free placement of the handicap stones. In contrast to an even game it is White's turn to play the first "real" stone (after the black handicap stones have been placed on the board).
Before the adoption of komi, a different handicap system was in use among top ("pro") players. See: tagai-sen, sen-ai-sen and josen. Various Go clubs in Tokyo use a similar point ranking scheme to track players' results and determine the handicap in games.
General
Advice
Games and Analysis
Books
Experimental
Question
---